Posts for tag: dental care
By Gregory S. Herzler, DDS
October 08, 2020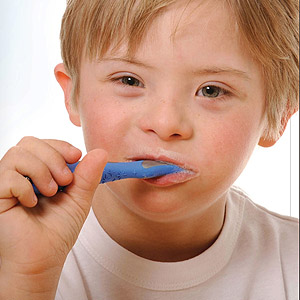 Even the simplest, everyday things can be challenging for a child with special needs. Dental care is no exception.
If you have a child with a chronic condition that affects their physical, intellectual or behavioral abilities, you know how difficult keeping up with dental care practices can be. Here are 4 tips to help make dental care easier and ensure your child has healthy teeth and gums.
Take an active role in hygiene. Depending on their abilities, you may need to take a more active role in daily teeth cleaning. If you have to brush their teeth for them, it's usually easier to have them face you "knee-to-knee." You can also use a second brush to keep their mouth propped open if they tend to bite or clench down while brushing.
Model behavior. If your child could eventually brush for themselves, it may still be a long training road. It can be an easier task if you make a habit of brushing your teeth together, or have them brush with a sibling. Not only does this allow you to monitor their progress, their learning process may be easier watching another person brush and then mimicking their actions.
Find the right dentist. Many children with special needs are subject to anxiety surrounding healthcare visits, including going to the dentist. Choosing the right dentist, skilled in the technical aspects of treatment for a special needs child and providing a "kid-friendly" environment, can make all the difference in the world. A pediatric dentist is often a good fit for children with chronic conditions.
Coordinate medical and dental care. A special needs child could have underlying health problems that complicate dental care, so keep your dentist well-informed about their overall health. Do likewise with their medical providers, particularly if their condition or treatments impact dental health, as in the case of medications they're taking that could inhibit saliva flow.
Ongoing dental care for a child with a chronic health condition can be difficult. But keeping their teeth and gums healthy is an important part of fostering greater overall health.
If you would like more information on dental care for special needs children, please contact us or schedule an appointment for a consultation. You can also learn more about this topic by reading the Dear Doctor magazine article "Managing Tooth Decay in Children With Chronic Diseases."
By Gregory S. Herzler, DDS
September 09, 2019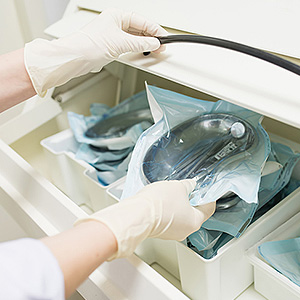 Visiting the dentist for regular cleanings and needed dental work can do wonders for keeping your teeth and gums in tip-top shape. But if you've seen or heard about infections occurring in healthcare facilities, you might be a little concerned that your trip to the dentist might expose you to one. Don't be! You and your family will be out of harm's way because your dental team has made protection from viruses, bacteria and other infectious agents a top priority. To highlight this effort, the American Academy of Oral Medicine commemorates each September as "National Dental Infection Control Awareness Month."
As a healthcare provider, dentists have a legal, moral and ethical obligation to protect patients (and staff members too) from infection through what are known as "standard precautions." These include barrier protection, disinfection and sterilization practices, and safe disposal of contaminated items.
But dentists and their professional organizations don't stop with the minimum requirements—they're committed to a higher standard when it comes to infection control. The bedrock for this commitment is adherence to an infection control checklist developed by the U.S. Centers for Disease Control (CDC), updated regularly. This in-depth checklist recommends several best practices and protocols, including:
Creating a written infection control plan that outlines all practices and procedures to be followed by the provider and staff;
Barrier protection, including the wearing of disposable gloves, face shields or gowns by providers as appropriate;
Proper disposal methods for used items;
Proper hand washing and other hygiene practices before and after treatment procedures;
Proper disinfection and sterilization of instruments and equipment;
Most licensing bodies also require that dentists and their staff undergo continuing education in infection control, usually every two years.
Because you as a patient have a right to know the details about your medical and dental care, you have public access to infection control guidelines and requirements. You can also ask your dental provider about what steps they take to protect you and your family from infectious disease. They'll be glad to answer any questions you have to put your mind at ease about your safety.
The dental profession's commitment to patient and staff safety has drastically reduced the risk of any infection. Rest assured, your dental visit will be beneficial for your oral health—and safe for your general health too.
If you would like more information about infection control in the dental office, please contact us or schedule a consultation. To learn more, read the Dear Doctor magazine articles "Infection Control in the Dental Office" and "Shingles, Herpes Zoster: A One-Sided Facial Rash."
By Gregory S. Herzler, DDS
November 05, 2016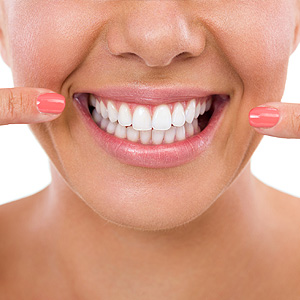 You might see your teeth and gums as separate parts of your mouth. But we dentists see them as a unified biological system, each of them contributing to your mouth's various functions: eating, speaking and, of course, smiling.
The teeth-gum-mouth relationship is also a factor when things aren't going well. Tooth decay, for example, doesn't suddenly appear — conditions have to be present in the mouth to cause it. The same can be said for periodontal (gum) disease or bite problems.
So the best approach in dental care is to consider the whole — to first learn all we can about your mouth. We need to understand not only your current problems but also your health history and the unique features of your mouth. With this deeper understanding we can formulate a long-term plan that addresses all your individual needs.
We specifically want to identify your individual oral health risks, from your genetic makeup to any past problems with dental disease or the bite. We then want to assess your current state of health: do you have any presence of dental disease? Is any past dental work failing or in need of updating? Are there any biomechanical issues with the bite or bone loss that need to be addressed?
With this more complete picture, we can then prioritize your care and treatment. Some things like gum disease require immediate attention. Other areas such as bite problems or cosmetic issues may require planning and time to fully address. Our aim, though, is to eventually bring you to as high a level of health as your individual situation will permit.
Once we've achieved an acceptable level of health, our aim is to then maintain that level. This includes monitoring for changes in your oral health and intervening when necessary.
As you can see, establishing a care strategy is only the beginning — and care will always be ongoing. In fact, we'll need to modify your care as new issues arise or you experience the effects of aging. Our end goal, however, always remains the same — to help you achieve and keep the most healthy and attractive mouth possible.
If you would like more information on getting the most from your dental care, please contact us or schedule an appointment for a consultation. You can also learn more about this topic by reading the Dear Doctor magazine article "Successful Dental Treatment: Getting the Best Possible Results."