Posts for tag: chipped tooth
By Gregory S. Herzler, DDS
February 11, 2020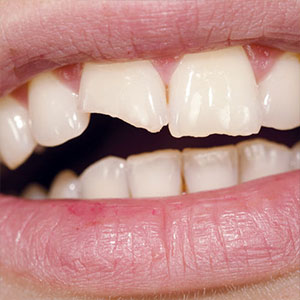 As tough as teeth are, life can take its toll on them and sometimes lead to parts of them chipping off. Although it might not affect a tooth's overall health, it can certainly downgrade its appearance.
But we can restore a chipped tooth like new, and it may not require extensive dental work. Thanks to a versatile dental material called composite resin, we can often bring back a tooth's natural appearance in just one visit.
Tooth-colored resins have been around for decades, but their application has been limited due to issues with durability. Recently developed bonding techniques, though, have made them a workable option for restoring mild to moderate tooth defects.
We do this by applying and bonding the composite resin to a tooth to "fill in" the missing portion. While it's often a short process, it does require a thorough understanding of tooth anatomy, function and aesthetics.
We begin with a comprehensive exam to assess the true condition of a chipped tooth. Some dental defects might be better served with a porcelain restoration like a veneer or crown for best results. Still, there are a wide range of defects for which composite resins is a solid repair choice.
Once we've determined bonding is appropriate, we prepare the tooth by first roughening its outer surface and then etching it with an acid solution to increase bonding strength. We then apply a luting agent, a kind of dental cement, also to aid with bonding.
We then begin applying the composite resin in liquid form, one layer at a time. This layering process helps simulate the color depth and shape of the tooth, and to further incorporate strength into the restoration. We're also careful at this point to match the variations of color with those of the surrounding teeth so that it looks as natural as possible.
As we finish each layer, we apply a curing light to harden the resin. We can then polish the finished product and make adjustments for the bite. The end result is a tooth that not only looks whole, but natural and blended with the rest of your teeth. Bonding could truly change your smile in just one visit.
If you would like more information on cosmetic dental restorations, please contact us or schedule an appointment for a consultation. You can also learn more about this topic by reading the Dear Doctor magazine article "Artistic Repair of Front Teeth With Composite Resin."
By Gregory S. Herzler, DDS
June 02, 2014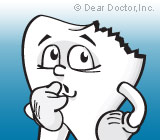 Your son has fallen and hit his face against a hard surface. Not only is he in pain but now there is also a chip missing from his front tooth. He is worried that his smile will never be the same. What should you do?
Answer: If you can find that missing chip, sometimes we can bond the fragment back on to the tooth. The tooth should be evaluated and repaired as soon as possible, although in the absence of other signs and symptoms of injury, and if your child is not in acute pain, it can probably wait up to 12 hours.
If the fragment can't be found, then the tooth can be restored with tooth-colored filling materials, which are also physically bonded to the natural tooth. Done well, these "composite resin" fillings can last for years and look perfectly natural. They may eventually need to be replaced with something more permanent.
If the chipped tooth is a child's primary (baby) tooth rather than a permanent (adult) tooth, the treatment will be similar.
However, a blow to a tooth can cause damage to the pulp — the living tissue within the tooth, which can become infected and die. If the damage to a primary tooth is too extensive it may be better to remove it to avoid damage to an underlying and developing permanent tooth. A place-holding appliance called a space maintainer may be used. If it is a permanent tooth it may need root canal treatment.
If a tooth is not chipped but is loosened or tender to the touch, it may require temporary stabilization, called splinting, until it has healed. Sometimes no treatment is required. If there has been a fracture to the tooth's root (the part below the gum line) it may heal by itself, or it may require further treatment especially if it is a permanent tooth, depending on the individual situation.
It is important to evaluate teeth that have been hit or damaged as a result of injury to ensure that they remain healthy and functional. We will keep track of the tooth or teeth, with observation, x-rays when necessary and monitoring over time to make sure no permanent damage has been done.
Contact us today to schedule an appointment or to discuss your questions about repairing a chipped tooth. You can also learn more by reading the Dear Doctor magazine article "The Field-Side Guide to Dental Injuries."
By Greg Herzler
May 14, 2012
When choosing among different ways to solve a problem, knowledge is power. In the case of selecting the best repair for a dental problem, count on your team of dental professionals to advise you. But you as the patient make the final decision, and it helps to thoroughly understand the different options, their advantages and disadvantages. If you have a chipped or broken front tooth, your likely repair options are composite resin or porcelain veneer.
Composite resins are synthetic materials that can be colored to match your natural teeth. The material is bonded to the tooth surface using adhesives that become part of the tooth structure, strengthening the original tooth. The repair looks as good as, or even better than, your original tooth. Such repairs can be used to restore small to large chips and other damage caused by decay or trauma.
Since the composite resin repair is applied directly to the tooth in the dental office, the repair can be made in a single appointment. You do not need to use a temporary repair while waiting for the final replacement to be made at a dental laboratory. This also means that the repair will cost less.
Another advantage of composite resin is that less of the healthy tooth needs to be removed to prepare the tooth to receive the replacement, since it bonds directly to the original tooth structure.
Porcelain veneers are very thin layers of tooth-colored porcelain that are also bonded to the tooth. They are usually recommended in situations with more serious injury or risk to the tooth, such as teeth that have been fractured, treated for root canal, or injured in contact sports.
Application of porcelain veneers may require more tooth preparation (in which more of the original tooth material must be removed) before the restoration can be bonded in position. Bonded porcelain veneers are likely to be longer-lasting than composite resins. They must be fabricated in a laboratory, so they require more than one visit and cost more.
All of the above are factors to consider in choosing composite resin or porcelain veneer to restore your chipped or damaged tooth. As usual in making such decisions, the final choice will depend on your individual situation.
Contact us today to schedule an appointment to discuss your questions about bonding to repair chipped teeth. You can also learn more by reading the Dear Doctor magazine article "Artistic Repair of Front Teeth with Composite Resin."